Click on the link to visit the Openedcolloquium Page
---
About Open@MandelaUni
The aim of Open@MandelaUni is to increase student driven engagements and experiences with Open. Opening up is an increasingly important aspect of teaching, learning and research globally, and growing more so at Nelson Mandela University.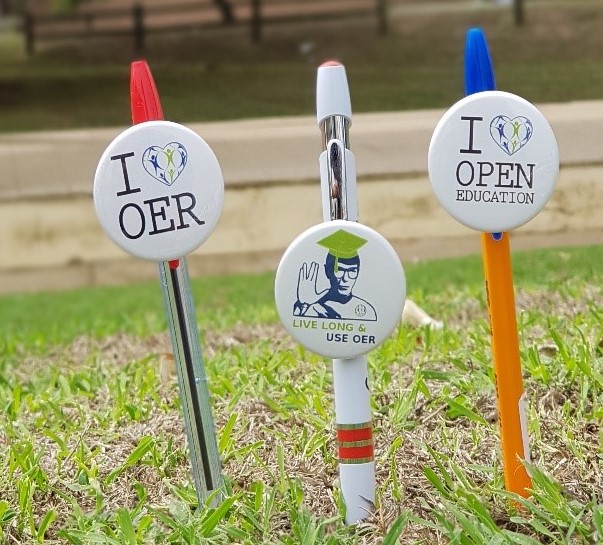 Open@MandelaUni includes opportunities to explore and engage Open Practices and Open Educational Resources (OER). This is in support of assisting transformative practice at the institution and beyond, where the provision of universally accessible, high quality teaching and learning resources are unencumbered by restrictive copyright licenses.
About the OpenEdInfluencers project
The #OpenEdInfluencers at Nelson Mandela University began in 2018. The project launched a more focussed aim to increase awareness, access, adoption and creation of Open at the institution, and beyond. Exploratory institutional support enabled the appointment and training of three Mandela University students, each hoping to support change in education through direct action.
The Open Education Influencers (#OpenEdInfluencers) project is led by Gino Fransman from Nelson Mandela University, a member of the Global Open Educational Resources Graduate Network (GO-GN) and an energetic advocate for Open.

In late 2018, the OpenEdInfluencers @MandelaUni applied to participate in the UNESCO Open Education for a Better World (OE4BW) global initiative, receiving news in February 2019 that the project would be included in the African contingent of entries.
What are OpenEdInfluencers?
OpenEdInfluencers, or OEIs, are ambassadors of and for Open; who increase awareness of Open Educational Resources, and who facilitate the adoption, creation and licensing of OER.
#OpenEdInfluencers energetically advocate for the use of Open Textbooks across purpose, faculties and schools.
OpenEdInfluencers conduct research into student experiences with textbooks and with OER, as well as assisting educators with the finding of Open materials to use in teaching and learning.
Read more